WEEN Woman of the Week: Channing Hargrove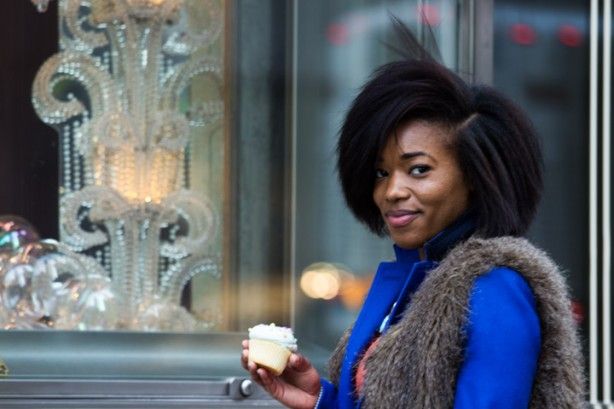 While most people were retreating to bunkers at the height of the financial crisis, WEEN Woman of the Week Channing Hargrove was expounding upon her natural gifts. After graduating from Penn State in 2009 with a degree in Broadcast Journalism, she found herself (like many grads at the time) without a job. Instead of wallowing in sorrow, Channing decided to that it was as good a time as any to explore putting her talents to work by starting a blog.
Growing up, did you always have a passion for writing and fashion?

I did! I always kept a journal and was told by my mom that I'd always do something in the writing arena. It's funny because the gifts that come naturally to us, we don't really pay attention to! [laughs] I also remember when I was younger, dressing my parents whenever they had functions to attend. It was even to the point where if my parents were somewhere without me, my mom would say "[Honey] call Channing, she'll know what to do." [laughs]
When did you launch 'Channing in the City' and what can readers expect when following this blog?

When I first started, it was a hot mess. [laughs] I initially used it as a writing portfolio to practice and perfect my writing technique for when I actually got a job writing for other people. Not long after I started my blog, it morphed into giving others a glimpse into my story – to say," Hey, I'm just like you, trying to make my way. I've gotten through hardships and I'm working each day to follow my dreams." I also love fashion and beauty, so I share my style with [my] readers as well.
HelloBeautiful.com penned you one of the "
Top Women Under 30 To Watch
"; how does it feel having your hustle recognized on this scale?

I don't think I deserved it; I feel like I have so much more to accomplish, but I was extremely honored. When I Hello Beautiful recognized me, I hadn't even been blogging a full year, so I was very thankful that even at that stage of my life someone wanted to recognize my work.
How gratifying is it to have written and vlogged for entertainment staples such as AOL Black Voices, Centric Television, and Vibe Vixen?

I am super thankful to have had all of these opportunities. I think Vibe Vixen [especially] was a very big deal for me. I remember when Vibe Vixen was in print only. I was in college and really broke –even to the point that a friend and I used to buy one magazine at a time and share it – but when it came to Vibe Vixen, we each said "Oh no, we have to each have our own on this one!" [laughs] When they decided to go digital, and I actually had the opportunity to write for a publication that I read, it was unreal!
'Channing in the City' gives [us] a look into your stylish life. What's one thing people may be surprised to find out about you?

I'm a bit of an over thinker. When people read my work, they think I'm this crazy, whimsical, fun girl; but I actually overthink pretty much everything. I have a strong hold on my faith, and I know that to truly have faith, I can't control every single thing in life. So, I have to do what I can, and for the things I can't control, have the faith to let it go.
What are your top three favorite blogs (besides your own)?

When I do have free time: 'Miss Whoever You Are', 'Necole Bitchie', and 'Kela's Kloset'.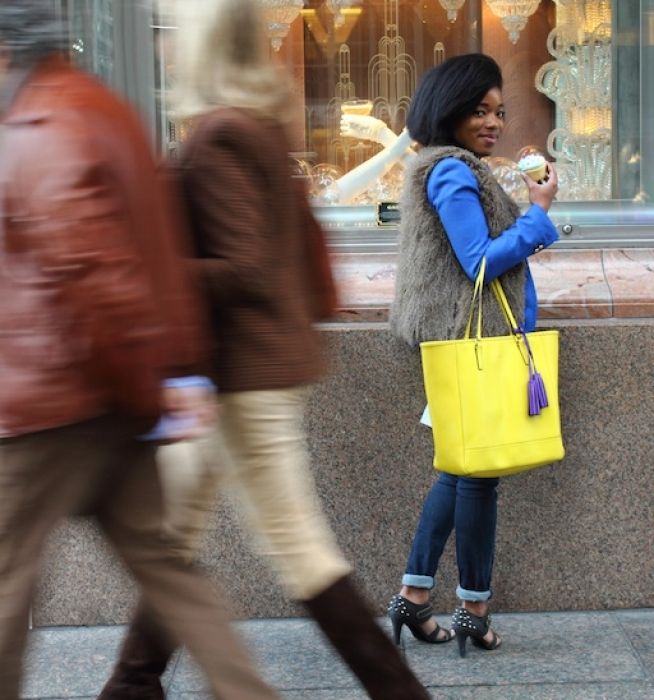 What would you say to women of color who have a talent for writing, but are clueless as to where to begin?

Beginning as a writer has a positive and a negative side to it. The positive side is that everything is accessible online. The negative is that people [often] don't do their research and it shows many times. If you're going to be a fashion writer, you need to know major designers and know the decade inspirations. Do your research.
What's next for you?

I don't know! [laughs] I really didn't expect to be where I am so soon. I'm now in New York working exclusively as an editorial assistant for Glam.com. Just two weeks ago I went on a press trip to Bermuda. I had the opportunity to attend a Sunglass Hut event with Jerry Hall and her daughter Georgia Jagger; and did my first red carpet the week before last! So much has been happening so fast and I'm just excited for what's to come. I'm also going to make a new vision board.
A Vision Board? What is that?

At the end of last year, I wrote myself a letter and included five or ten goals that I really wanted to work towards reaching. When I wrote them down, I also posted photos on a board that spoke to each particular goal. For example, one of my goals was to live in New York, so I posted a photo of the New York skyline on my board. [Most people aren't aware of this], but the more you write something down, the more it's likely to happen.
With the whirlwind of excitement that's now her life, Channing Hargrove is a woman of the rise. Doing what she loves AND working in fashion – sounds like a winning combination!
Want to get a better peek into Channing's life?
Written by contributing editor, Jocelyn Drawhorn
Jocelyn Drawhorn is a creative writing professional and photographer who calls North Carolina home. After receiving her BA in English and minor in Business Administration, the East Carolina University alum added Allstate Insurance Agent to her resume. While pursuing her undergrad, she followed her love for the camera and founded a photography business at age 19. In the almost 10 years she's operated under Joc's Photography, Jocelyn has had the opportunity to photograph many emerging talents in music and fashion. She's honed her writing skills by contributing to post grad publications like SHINE Magazine Online, and in mid-2012, was added as an on staff photographer/contributor of Our Success Magazine; a publication that highlights successful minorities who call North Carolina their home state.
Aside from photography and corporate work, Jocelyn dabbles in poetry, music, and social media marketing. She is an upbeat, resilient individual who loves to create. Regardless the avenue, she'll find a way to squeeze something inspiring out of it.